What they're saying about Blackie, The Horse Who Stood Still
"Blackie is a beautiful and touching story, told in rhyme by Chris Cerf and Paige Peterson. Unforgettable as the tale is, the artwork by Ms. Peterson is even more so. Long after you've read the book, you will remember the stunning pictures, illustrating the events of Blackie's life. This book will be admired and enjoyed by adults and cherished by children. An instant classic!"
Joan Ganz Cooney
Co-founder of Sesame Workshop
and originator of Sesame Street
"If you're the horsey type, try Christopher Cerf and Paige Peterson's inspiring work Blackie: The Horse Who Stood Still. If you loved Ferdinand the Bull, then your kids will love Blackie as seen by Cerf and Peterson."
Liz Smith
New York Post
"Blackie is the heroic antidote to our frenetic society, a guide to parents who often feel they must enrich and enhance their children's development at every turn. Blackie stands still, knows the value of observation and reflection, of being in the world, not always acting upon it. Children innately know this, too. Parents, read with your children about this horse who will help you preserve in their up-bringing a necessary environment of calm."
Owen Lewis, M.D.
Child Psychiatrist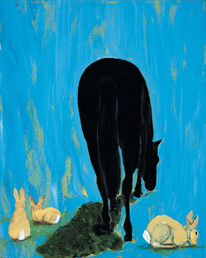 "It is amazing that someone as active as Paige Peterson can so ably depict the virtues of standing still. She is without question a multi-faceted and multi-talented person. Her sweet illustrations are a pleasing complement to Chris Cerf's presentation of a simple but meaningful story. What many readers of Blackie: The Horse Who Stood Still may not know is that our energetic Paige is always moving in pursuit of support for the Huntsman Cancer Foundation. To put it simply and meaningfully, we are in awe of her talents and creativity."
Jon M. Huntsman
Founder, Huntsman Cancer Institute
"In the season of long trips to Grandma's, new books with animal appeal are perfect for taming the young folk. Inspired by a lovably balky horse who was the pride of Tiburon, California, this sweet picture book depicts stubbornness as a virtue."
Michelle Green
Picks & Pans
People
"For a story about a horse that stands still, Blackie is wonderfully moving! It's a heartwarming reminder -- to children and adults alike -- about the preciousness of patience, dependability and love. Christopher Cerf's wordplay is mischievous and delightful, and Paige Peterson's paintings are simply breathtaking. I love this book!"
Marlo Thomas
Actress, Author, Activist
"Oh, Blackie, my hero. You truly can stand put in afast-moving world and still succeed. Thank you, Paige, for your tender illustrations, and Chris, for such inspiring words. This tale will be told to my grandchildren over and over."
Lynn Sherr
ABC News
"Blackie is a must for every family bookshelf. The endearing and evocative prose by Christopher Cerf coupled with the colorful, innovative, and unforgettable illustrations by Paige Peterson make for an enchanting literary experience....A delight for the young at heart of all ages....You'll love it!"
Joan Walsh Anglund
Author
"When we bought our very first home, in Tiburon, California, we didn't realise we'd be living across the street from a celebrity, 'Blackie. This charming book brought back wonderful memories of him standing as a living landmark in his pasture - a beacon signifying HOME - every day for our family. Can't wait to share it with our grown 'kids' and our nine grandchildren, too. What a lovely and touching gift 'Blackie' will be for all of us!!!"
Drue and Arthur Gensler
Founders of GENSLER
"Paige Peterson's paintings remind me of the joy of art. She has a wonderful sense of color and a unique vision."
Mort Zuckerman
U.S. NEWS and World Report
"Illustrator Paige Peterson and Sesame Street co-creator Christopher Cerf
have a message for overscheduled children: Slow down. They've created a
beautiful new book, Blackie, about a real horse who liked to do...nothing."
Rush & Molloy
New York Daily News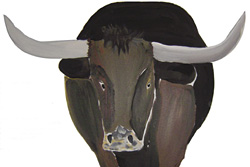 "If this one doesn't bring out the Kleenex box, I don't know what will. Not because it is sad (anyone who has had to remove a sobbing 5-year-old from a screening of Bambi learns to be cautious about children's books where dogs, horses, or mothers die), but simply because this true story is very touching."
Sheridan Sansegundo
The East Hampton Star
"What a sweet, soulful tome of tree flesh. Cerf's up! Turn the page!"
Wavy Gravy
Winnarainbow Kids Camp Director, Woodstock Master of Ceremonies, Seva Board Member, Ben & Jerry's ex ice cream flavor, Hippy Icon Flower Geezer and Temple of Accumulated Error.
"Growing up on the Tiburon peninsula, Blackie the horse was part of my community. In their delightful book, Christopher Cerf and Paige Peterson not only recreate the true story of an amazing animal, they capture the magic that every child felt seeing Blackie's stoic silhouette in the pasture. It's a wonderful story about a special horse that helped define a community."
Kate Kelly
Newscaster, CBS-5 San Francisco
"Paige Peterson's work continues and even updates a Pop-minimalist tradition that includes such practitioners as Will Barnet and Alex Katz. Her particular use of negative space, however, is personal and distinctive. It seems both to conceal and project a certain emotional content and even hint at an underlying narrative."
Barbara MacAdam
Artnews
"Reading Blackie to their children is reason enough for couples of all sexes to consider adoption."
William Hamilton
Cartoonist
"A story about a horse who likes to stand still is endearing. That the tale could bring hundreds of children to their feet in applause is extraordinary. When they finished reading their new children's book, Blackie: The Horse Who Stood Still, to 300 elementary school students in California, Christopher Cerf and Paige Peterson received a standing ovation...The book also touches on death, a topic not often explored in children's literature. 'We really didn't set out to do it but when we read in schools, kids asked so many questions about that, 'how did he die and will he be remembered?'' said Cerf. 'He had a really model death in some sense, [and] he had a great life and he will be remembered forever for doing what he did.'"
Carey London
The Independent
"Standing still never made so much sense.The journey of a thousand miles ends with one horse who demanded to stand still. I'll give it a try tomorrow, but I've to run today. Oh, right, I missed the point.
Stillness is an art cleverly celebrated by Chris and Paige in this charming tale of determination and tenacity. A lesson for all."
Thomas Schumacher
Disney Theatrical Productions
"I wish our daughter still nestled in my lap so I could read her the inspiring story of Blackie, a horse who appeared lazy but in fact understood why nature is to be savored and change is sometimes to be resisted. I think I'll read it to her anyway!"
Ken Auletta
Author and journalist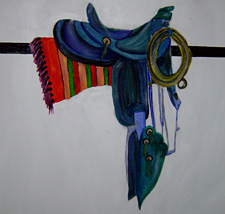 "This extraordinary collaboration between two brilliant artists--one with pictures and one with words--is a pleasure to read on many levels. It's a beautiful book about a horse, but it's also a thrilling story about the value of stillness and the wisdom of animals. In our hurly burly world it's a wonderful thing to take a moment to absorb Paige Petersen's beautiful paintings and the sly sage teachings of this wonderful story. We should all stand still sometimes, and this book shows us how--it should be required reading for children and adults."
Susan Cheever
Author
"What a stunning sense of composition! I love these paintings!"
"In the tradition of Ferdinand The Bull, Blackie is a sweetly unorthodox beast. There is a swell message here, but burrowed in as it is amongst the gorgeous illustrations and snappy text, the lesson merely catches a ride on Blackie's myriad other charms. My family LOVES this book."
Alexandra Styron
Author
"Blackie is a story of a horse who spent his last years in Tiburon. My sons are now in their 50s, and I remember driving by Blackie almost daily with my sons, and there were many times we stopped, got out of the car, and just stood with him in his presence. Throughout Blackie's life he stood still. What seemed like a disadvantage continually turned to advantage. He listened, he watched, he dreamed, he was safe for children and adults alike. By example, he taught peacefulness and suggested that life's answers were not necessarily found in activity. Blackie The Horse Who Stood Still teaches us that giving and receiving occur at the same time, and the more we give, the more we reinforce the reality of Loves presence in our lives. This is a book to be read over and over again."
Gerald G. Jampolsky, M.D.
Founder, Center for Attitudinal Healing And Author
"As an elementary school student over forty years ago, I read a poem at Blackie's memorial. Life has brought an array of experiences since that time—I have studied many traditions, became a psychologist, written books, and raised a family. And yet, as I pause to consider what to write for this wonderful book, I realize that I needed to go no further than Blackie's Pasture by the bay to find the most important formula for a meaningful life: Slow down, be still, know what is most important, find joy and beauty in the moment. Thank you Blackie!"
Lee Jampolsky, Ph.D.
Author
"An enchanting story -- its radiant, bemused wit emerges into wisdom. The drawings are exquisite; it really is a wonderful book."
Susanna Moore
Author
"BLACKIE is an equine delight...the story and the illustrations are witty, deceptively simple, and simply beautiful."
Laurence Luckenbill
Actor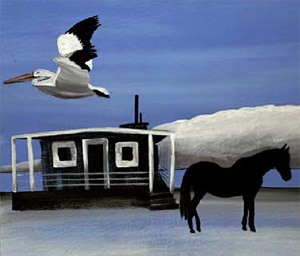 "This is not just a book for kids, although they should read it or have it read to them by anyone who cares about sprawl, overcrowding, the environment, quality of life, sense of place and conviction. The team of Chris Cerf and Paige Peterson has created an optimistic handbook on how to live with change but more importantly how to guide it.
It's a personal, beautiful book with quirky paintings and charming text about a goofy horse who has more in common with Gandhi than Trigger. It's about one special place but applicable to many. It's about doing the right thing. What a concept! Buy it, give it, read it, keep it and read it again. Pass it on."
Ross Anderson
Architect
"Both the poetry and illustrations make this beautiful book a favorite of my grandsons and other children I have read it to here in Saudi Arabia. The story of this stubborn horse, told with such spark, makes it clear to children that you can be different from everyone else and still contribute and be loved for what you are."
Dr Sally Alturki
Educator in Saudi Arabia
"Kids will love it!!!"
Lucie Arnaz
Actress
"Charming. Beguiling. Magical. Touching. And, astonishingly, also true. The tale of Blackie, and the loving and lovely illustrations, make this a classic."
Alex S. Jones
Author
"Written in joyful and irresistible rhyme, and presented in gorgeous and vivid llustrations, Blackie is the captivating story of a horse who teaches children and adults alike the lessons of endurance, of adherence to one's principles, and of the steadfastness of love. Together Paige Peterson and Chris Cerf have created a magical, whimsical, and triumphant real-life fable--a tour de force of the heart."
Adam Davies
Author
"The paintings are filled with such true joy and spirit... and, while Blackie's tale touched me like Shel Silverstein's The Giving Tree, it embodies an even more profound statement about what should be of ultimate importance in our lives: contentment."
Price Crozer
Imari Gallery
"Oh, how I love this book. And the illustrations make me almost weepy. I can't wait to buy it for my granddaughter, Lily, and read it to her for years. Blackie will be for Lily what Misty of Chincoteague was for me (except Misty wasn't funny and wacky like Blackie.)"
Joan Jakobson
Author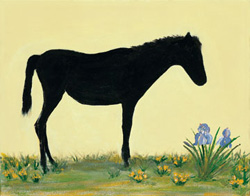 "Fabulously inventive and beautifully illustrated! The writing evokes children's story classics of the Dr. Seuss genre. Blackie the Horse Who Stood Still draws from the powerful tradition of real life tales that are fanciful but true. In a world that hardly ever stands still, the story appeals to young people's need to learn important lessons like patience and consistency. And despite its traditional roots, the lilt and texture of the language and illustrations are refreshingly modern!"
Michael Levine
Foundation Director of the Joan Ganz Cooney Center
"Paige Peterson's art is filled with the magic of light, the colors of love, and the joy of being alive."
Nicholas Callaway
Publisher
"Like the proverbial leaf in its fall foliage and its metaphorical mate in the desert that encounters a gust of wind, I was "blown away...." What a gift Paige Peterson and Christopher Cerf have to be able to express the mind and spirit of a child's world. They captured what had to have been the essence of Blackie's soul and sense of dignity alongside curiosity regarding the homo sapiens who passed his way."


John Duke Anthony, PhD.
President and CEO, National Council on U.S.-Arab Relations
"I've always been fascinated by the appeal, to children of both sexes, of captivating movies and books ostensibly about horses but really about life. Blackie advances the art in text, illustration and empathy for its title character. Even though my 'kids' are grown, I have a perfect new gift for my friend's kids."
Edward Bleier
Media Executive
"I just LOVE LOVE LOVE 'Blackie'! I think it's great that it's a true story. It's quite touching. Paige Peterson's illustrations are really wonderful–they have a naif quality that draws you in (like Rousseau), and they are very witty as well–how she places things or leaves things out. The text is so well done. So many of the rhymes (and rhythms) are wonderfully playful and just super–I particularly liked the 'Salinas/Between us' rhyme–but there are many more that I loved. And the lines 'When you get tired of trying, I'll still be standing still' are really superb!"
Peter Ekstrom
Composer/Lyricist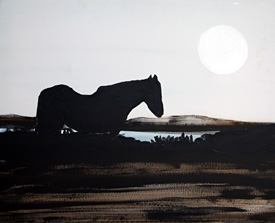 "The book is very sweet, a nice twist on the cowboy world. One would never expect a passive equestrian partner. The writing is good and the images are wonderful. I love the many styles and viewpoints. There is a primitive freshness and spontaneity to the paintings. The whole thing is really charming. I think it will find a broad audience. And it deserves to."
William Matthews
Artist
"Blackie is indeed an inspiration to those young and old. The lessons Blackie teaches are perhaps the most important yet quite overlooked: the true sense of self."
Ray Chambers
Philanthropist
"Over the years, as I'd looked at Paige Peterson's work, I was amazed. Her styles changed – radically. The only common thread was excellence. Chris Cerf and Paige Peterson collaborated on a whimsical, mostly true, rhyming story about a horse that wouldn't play the game."
Jesse Kornbluth
Author
"Peterson and Cerf hit a home run with BlackieThe Horse Who Stood Still. Cerf's talent with words and Ms. Peterson's wonderful paintings make this gem of a book a must for all ages. Bravo to this talented team."
Dan Rizzie
Artist
"As someone who has the every day privilege of witnessing the magical and powerful relationship between children and horses, I am impressed with how this book captures that spirit and translates it into word and picture. Beautifully written and drawn...think The Velveteen Rabbit meets Ferdinand the Bull."
Robert Pope
Giant Steps Therapeutic Equestrian Center
"Both the story and the illustrations are enchanting. This book is a special gift to anyone who reads it. In this hectic world, through Blackie, Christopher Cerf and Paige Peterson have shown us the value of love, compassion, quietude and the strength in being oneself."
Anna Strasberg
The Lee Strasberg Institute
"Blackie represents a wonderful coming together of Chris Cerf's lilting rhythm and rhyme and Paige Peterson's charming and touching illustrations. This tale should appeal to people of all ages, and reminds us once again that time passes so fast that we must force ourselves to slow down and smell the roses when we can. Blackie is a winner."
Jade Albert
Photographer
"With Blackie, Chris Cerf and Paige Peterson have written a beautiful book that brings a smile to my face and a tear to my eye. And make no mistake, while it has the look of a children's book, its message is right for all ages. I highly recommend Blackie for young and old alike."
Drew Casertano
Headmaster, Millbrook School
"A charming children's book that can teach us all about the delight of simply standing still."
Eden Collinsworth
Author
"A great artist it seems to me captures not just a subject but a particularly telling moment in the subject's life. As Picasso said, 'I paint to find out what I think.' Discovering what Paige Peterson thinks is always interesting indeed."
Nancy Collins
Architectural Digest
"Paige Peterson and Chris Cerf have created a heartfelt classic illustrated story about a real life horse Blackie and his lifelong career of standing still. But it is so much more than that. In its sophistication, Blackie cannot be classified as strictly a children's book. It is funny, it is goofy, it is intelligent and entertaining and it had me in tears. The rhyming text by Cerf and Peterson and the quirky paintings by Petersen combine to create a well spun tale that appeals to all ages can and starts a conversation about commitment and convictions in a manner that kids can understand and any parent would enjoy having with their children."
Frank Lupo
Painter
"I loved the book and plan to incorporate it into my lectures as a symbol of standing still and not trying to make things happen. The illustrations are spectacular–simple, clean, but evocative."
Allan J. Hamilton, MD, FACS
Professor of Neurosurgery
"The spirit of BLACKIE is forever summoned through the magical words of Christopher Cerf and enchanting illustrations of Paige Peterson."
Mindy Marin
Movie Producer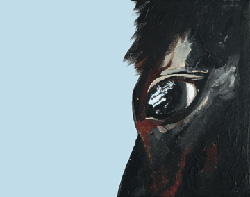 "This charming and sweet tale celebrates the life lived with deliberate tranquility -- a life that resists the enticements of bustle and business. Blackie reinforces simple and powerful values in a book that is deepened and enriched with its marvelous illustrations. Children of many ages will be drawn to this delightful story."
Judith Stoia
Television Producer
"What an absolutely charming yet powerful story! The cleaver rhymes and striking simplicity of the illustrations are in perfect harmony...hard to imagine what came first as each beautifully compliments the other. A brilliant little book that elegantly honors a horse who every reader will empathize with."
Douglas Leeds
President, American Theater Wing
"Blackie is such a perfect interweaving of Cerf's warm, unfussy lyricism and Peterson's simple, elegant, deep-and-wide paintings - the warm narrative playing lightly against a backdrop of bold colors and unexpected compositions of ears and eyes, shoes and sky. A totally charming naivete pervades the sweetness of the storytelling."
Fred Newman
Actor, "A Prairie Home Companion"
"I can't wait to read this book to my children. It's wonderfully heart-warming and lyrical, a beautifully rendered and lovingly told story for those of us not resigned to following the pack! Bravo!"
Gavin Spanierman
Spanierman Gallery